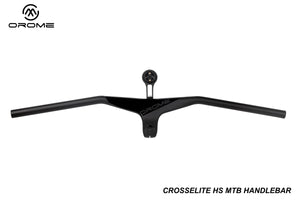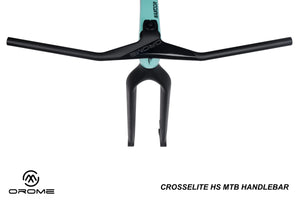 OROME Crosselite HS MTB Carbon One-Piece Handlebar
OROME CROSSELITE HS MTB CARBON ONE-PIECE HANDLEBAR
When Elves engineers were designing the Nandor Pro 29 XC frame, they started to design an integrated MTB handlebar compatible with the perfect frame. After six months of testing, OROME is proud to launch the new one-piece MTB handlebar—Crosselite. It is a complete race-ready cockpit! Incredibly light and stiff! Crosselite handlebar fully meets Elves' Nandor Pro 29 frame's requirements: super-clean cable routing solution, instantaneous response, and excellent handling. This is a dream combination.

OROME Crosselite handlebar uses Toray T800 carbon fiber and continuous UD carbon monocoque construction to maximize stiffness and lightweight. Innovative -22° drop stem design provides excellent support and handling. It must be the perfect choice for taming the lofty front ends of 27.5" and 29" wheeled bikes.

Please build your Elves Nandor Pro 29 bike with OROME Crosselite one-piece integrated handlebar. You will get a visually stunning and clean XC hardtail bike; also, Crosselite handlebar is compatible with your Nandor 27.5 frame. You may choose the traditional ring spacers or OROME HPS01 spacers.

Crosselite handlebar can be compatible with other brand frames as long as its headtube upper bearing OD is 41.8mm.