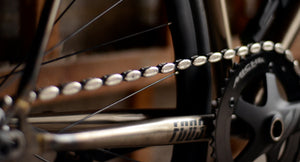 Essential Tune Up
An in-depth Tune Up that is sure to make your bike looks as well as it works.

A very good option for serious riders who want the most out of every ride. The Essential Tune Up is our bestselling maintenance program.
This Tune Up includes all the following:
A complete assessment of your bike and its needs upon arrival (Inspection of the drivetrain, your wheels, all moving parts, and flagging anything that could be unsafe about the bike).

Generation of an estimate if your bike needs any parts or extra work done

Booking the bike for repairs as early as possible

Complete Disassembly and Ultrasonic Cleaning of the drivetrain (Chain, Cassette, Front Derailleur, Rear Derailleur, Crankset, Chainrings)

Cleaning of the frame, fork and wheels

Adjustment of the hubs, headset and bottom bracket

Making sure all non moving parts are tight and secure

Adjusting brake levers, shifters, handlebar and saddle for ergonomics

Lubricating the chain and all moving parts

Complete Wheel Alignments with a tensiometer to balance the spoke tension of your wheels

Spoke replacements if necessary

Bartape Replacement if necessary

Brake Adjustments

Speed Adjustments

Tire Pressure Check

Road Test & written Quality Control by a second mechanic

A Mechanical Assessment and Diagnostics Sheet given at the end of the process so you know exactly the state your bicycle is in. This is optional and at the discretion of the mechanic if we observe anything else that you should know about your bike.
Bicycles that come out of tune ups are covered under a three (3) week warranty for touch ups in the event that anything included in the tune up needs to be readjusted.

  DISCLAIMER
Booking a tune up before a consultation puts you at risk of paying for the wrong service. To avoid missing important repairs that should be made, we highly recommend booking a consultation unless you are certain of what your bike needs. 
This appointment is only to drop off your bike, and does not mean we will begin the work immediately.