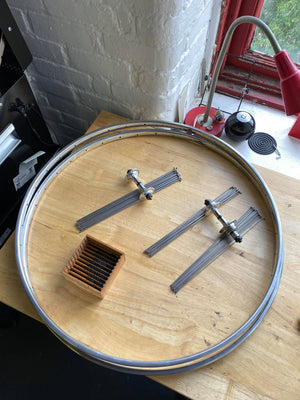 Professional Bicycle Wheelbuilding Program [C2D/C2W]
You may view the course outline for this program here.
Wheelbuilding is a skill that many seasoned bicycle mechanics and even certified professionals do not comprehend fully. In fact, wheelbuilding is considered to be a disappearing expertise with most wheels being pre-built nowadays. Most bicycle shops offering wheel repair services like spoke replacements and wheel alignments only have basic knowledge of how wired spoke wheels as a system work. When the occasional shops offer wheelbuilding as a service, most consumers would be surprised to learn that shops do so with very surface-level knowledge of the craft.
Indeed, an overwhelming majority of bicycle shops can assemble wheels, but do not grasp the physics, materials, history, design, and theory surrounding bicycle wheelbuilding. This knowledge gap not only makes the local bike mechanic slow and inefficient when building wheels (thus raising the labor costs, as you may observe that a single wheel can cost as  high as 100$ in labor alone), but also makes it difficult and nearly impossible for complex issues to be correctly diagnosed and permanently fixed by shops. The absence of wheelbuilding expertise means that shops may be capable of putting custom wheels together, but cannot vouch for the quality of the build in terms of assembly and parts chosen. Custom wheels aren't just about aesthetics: they are about function, durability, utility, cross compatibility, ride quality, performance, and more. Our Pro Wheelbuilding Program's purpose is to teach everything about wheels from A to Z from a mechanical standpoint, and equip professionals with the expertise necessary to become master wheelsmiths in their own right.
This class is designed for students to fully grasp expert-level wheelbuilding skills and knowledge to build and maintain wheels in a professional setting. This program is dense with learning material and homework, since students will be tested for the completion of the course.
Upon Completion of the Professional Bicycle Wheelbuilding Program [C2], students will:
Have a firm grasp about bicycle wheel design and history
Understand modern bicycle design in relation to bicycle wheels
Know the advantages of Wheelbuilding
Have an in-depth understanding of rim, hub, bearing, nipple, spoke, tire and pneumatic design, engineering and history
Understand the physics of bicycle wheel dynamics
Have knowledge of compatibility in bicycle wheel components
Understand how spoke tension works in wheels as a system
Understand the advantages of specific lacing patterns
Know how to measure components of a bicycle wheel and calculate spoke length
Know how spoke tension ratios work and how to effectively apply them
Have a good understanding of how to pick components effectively to build a bicycle wheel designed for a specific purpose
Know how to cut and thread bicycle spokes and have a functional understanding of how spoke cutting and threading machines work
Know how to lace a variety of wheels quickly and effectively
Know how to tension bicycle wheels to spec using a tensiometric analysis
Know how to dish wheels properly
Have a firm understanding of wheelbuilding tolerances
Have been introduced to multiple quality control protocols and methodologies to ensure high standards
Be capable of maintaining a variety of hubs and bearings
Have been introduced to a variety of proprietary wheel systems

Have a functional understanding of internally geared and specialty hubs
Know how to avoid common wheelbuilding mistakes
Have professional diagnostics training to be the sharpest eye in the shop when it comes to wheels and related mechanical issues
Duration: This course/program has a total duration of 42 hours. It is available as a weekly program (two 3-hour classes/week for 7 weeks) or an intensive (7 days, 6 hours per day, not for the faint-hearted). 
Cost: Both versions of the Professional Wheelbuilding Program have a total cost of 1500$.
Accreditation: A passing grade will provide the student with documentation and a diploma describing the student's tested knowledge and skill level. We are also currently in the process of applying with the Quebec Ministry of Education to make this course an accredited college-level program.
Capacity: Maximum of 4 students per group.
Prerequisites: Prior experience in bicycle mechanics is mandatory. This is a professional level course that is extremely dense with information, as well as having homework and tests. Learning material is complex and highly advanced. This course is designed for adults and individuals with preexisting knowledge and demonstrable experience in bicycle mechanics. We welcome bicycle mechanics from other shops to join the course and catch up on their wheelbuilding knowledge.
Materials: All tools and learning material will be supplied by the workshop. Bring a notebook and binder if necessary to store learning material and take notes during the class. If you have wheels you wish to learn to build, you are welcome to bring your own parts.
HAPPY BUILDING!
Refund/Cancellation Policy
Cancellations before the 5 days leading up to the class are 50% refundable (50% penalty).
Cancellations within 5 days leading up to the first class (including the day of the class) are not refundable. Starting 5 days before the first day of class (including the first day of class), refunds will not be issued.
If students decide to drop the class midway, they may do so but are not entitled to a refund.
Students are responsible for catching up on missed course material. Missed classes are not refundable.
Refunds will not be issued as the result of a failed test. However, students who fail testing will be offered extra help and studying, as well as the option to take the test again for free with a 15% penalty. Our goal is to help students pass as much as possible. After a second failing grade, students may decide to take the test again for 100$ (which includes help with subject matter from an instructor before the test), or may take the entire course again at 50% off until a passing grade is obtained. Second tests are rarely failed after help from an instructor. 
No refunds shall be issued once the course is complete.